Backed by Science
The Joeyband™ is a name you can trust, that's backed by science. The Joeyband™ has been independently chosen for study by multiple reputable hospitals.
The Joeyband™ has been proven to improve breastfeeding and skin-to-skin rates while increasing patient satisfaction and helping eliminate infant falls and more.
Inclusive
The Joeyband™ is created with mothers in mind, and is used and trusted by women, and adults who care for infants. 
Some specific clinical benefits are unique for mothers in the early newborn period. We also support, respect and love all those who provide skin-to-skin care with a newborn.
The Joeyband™ is designed with neutral colours and patterns.  
Simplified sizing options A-C, and increased adjustability, allow for the perfect fit for any body type, including during postpartum changes.
The Joeyband™ is designed for all ages, neuro-abilities & physical abilities including ALS, wheelchair support, amputees. Please check with your doctor to see if skin-to-skin care is right for you.
Sustainable
The Joeyband™ is designed and manufactured in Toronto, Canada. We pride ourselves on ethical manufacturing of the highest quality.
The Joeyband™ is made using Oeko Tex certified fabric, and is free from harmful chemicals, helping to keep you and your baby's skin free of toxins.
Our packaging is constantly evolving to be more sustainable, with an aim for our packaging and shipping materials to be entirely recyclable and compostable in 2022.
Women Owned
The Joeyband™ was born from a place of vulnerability and love. When one of our Co-Founders experienced her newborn baby falling off her chest while doing skin-to-skin, she knew she never wanted another family to experience the pain of an infant fall. Now used on over 100,000 newborns, our community is not only protecting babies, but improving their quality of life during the fourth trimester. 
We are a close knit team who supports each other, and are passionate about sustainability, maternal rights, and creating a life filled with joy. We are deeply focused on building an equitable, authentic community for your fourth trimester and are honoured to be a part of your journey.

Some organizations we are proud to support include: March for Moms, MamaBaby Haiti, Good+Foundation
Hear from parents and healthcare workers who love the Joeyband™
Allegra + Olivia
Joeyband™ customers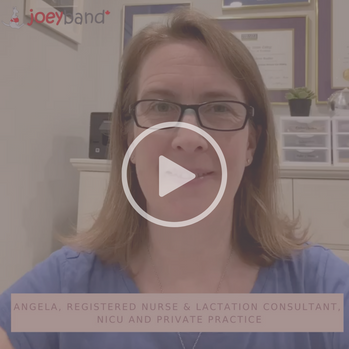 Angela
Registered Nurse & Lactation Consultant